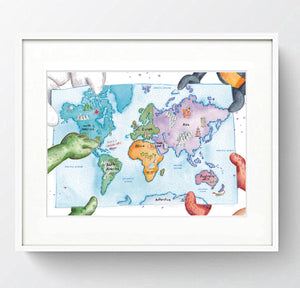 This beautiful illustration by Jo de Ruiter, is of Alex Alligator's magic map. Together with Felix Fox, Betsy Bee and Dilly Duck, they hold onto Alex's magic map, shout the name of the place they want to go and jump!
It is printed on textured Hehnemuhle German etching paper using Giclee Inkjet printing process to protect the vibrant colour and careful detail within the painting.

The print size options are either A4 or A3 to accommodate placement within frames.
We do provide custom print sizes if required, please contact sarah@alexalligatorandfriends.com  
The print comes signed with an edition number and includes a stamped card of authenticity. It is posted in protective packaging. 
Giclee is a process that uses a 12 colour inkjet printer, acid free papers, and pigment based archival inks. This insures that your prints will never degrade or yellow over time and allows a better longevity.